Contemporary Dance Trust Limited
Fundraising & Sponsorship Co-ordinator
7/1984 – 6/1986

Contemporary Dance Trust consisted then of London Contemporary Dance Theatre (out of whose ashes in the Nineties emerged the Richard Alston Dance Company) and its associated School and The Place Theatre in London.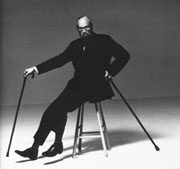 I was employed as the trust's first in-house fundraiser, to work closely with its director-general (and founder), the late Robin Howard CBE (above), in conjunction with its governors and directors, to maximise income from sponsorship, grants and special events.
I serviced several high-status fundraising committees, attended meetings of the board of directors, pitched for sponsorship to the CEOs of several major companies and was involved in the planning of benefits at the London Hippodrome and the Commonwealth Institute.


Back to the top