The Nave at St Margaret's, Uxbridge
Programme Director
11/1990 – 12/1992

Development & Publicity Manager
9/1988 – 11/1990
The Nave was the weekday identity of a small medieval church in Uxbridge, 'opened' in 1989 by Margaret Thatcher, which presented each month a rich mix of cultural events of outstanding quality.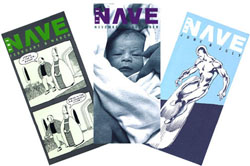 I was chiefly responsible for turning a gleam in a vicar's eye into reality. Employed to handle sponsorship, press and publicity (above), I was very soon asked to programme half of the interviews and talks and all of the performing arts, seeing each event through from conception to completion. I also did all the budgeting.
In its first year, The Nave was runner-up for the Illustrated London News Award for Innovation.
After a review by Coopers & Lybrand Deloitte in 1990, I was put in charge of the whole programme of 100 events a year.

I brought to the margin of London a long succession of famous artists and key opinion formers, including newspaper editors, actors, soldiers, poets, sportsmen, scientists, senior politicians and comics. Highlights included interviews of Germaine Greer, Ken Livingstone and Jeremy Paxman and several visits apiece by June Tabor, Théâtre de Complicité and the Endellion String Quartet.
In 1991, I flew to Kiev to arrange an exhibition of over 50 holograms of Ukrainian state treasures exclusive to The Nave, which was promoted (quirkily) as 'Light-Fingered Gold'. The Times picked it as its Critics' Choice, and it was seen by over 11,000 people.


Back to the top