Third Way Trust Limited
Editor and Publisher of Third Way
2/1993 – 4/2002
Third Way was a current-affairs magazine, founded in 1977, which examined political, social and cultural issues from a 'thinking Christian' perspective. I took on a title in chronic decline, with £8,000 in the bank, no staff and a reputation for dullness. I immediately commissioned a new design and introduced a series of in-depth interviews of public figures, beginning with the then Lord Chancellor.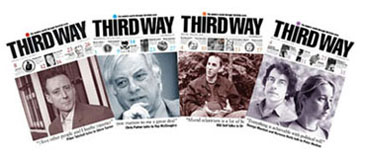 By 2002, both sales and turnover had risen by 135 per cent and Rowan Williams was describing Third Way as 'a rare animal … professional, imaginative, unafraid [and] irreplaceable'. Michael Taylor, president of Jubilee 2000, judged it 'one of the best ways I know to engage a hard-thinking faith with the realities of life'.
I was variously responsible for commissioning, editing and laying out the whole magazine, as well as running the business, budgeting, marketing &c. I co-ordinated an extensive network of consultants and contributors, and latterly recruited and directed a team of six freelance section editors to commission most of the content.
In 2000, I commissioned a new website, which I managed for two years.
I secured in-depth interviews of scores of key people, including Tony Blair, Noam Chomsky and Gerry Adams (pipping most of the British media), and I myself interviewed, among others, Anita Roddick, John Humphrys, Philip Pullman and Jane Goodall, as well as writing leaders &c.

I subsequently worked freelance for the magazine until it folded in April 2016.

Director of Third Way Travel Limited
1/1999 – 4/2004
In 1999, I conceived and created Third Way Travel to offer educational holidays to our readers in collaboration with various partners overseas. I organised four trips to Ecuador and two to Borneo, leading all but one of them.


Back to the top